Welcome back to PHP Core Roundup, the sixth in the series. PHP Core Roundup summarizes the latest improvements, bug fixes, discussions, and proposals to PHP.
The PHP Foundation currently supports six part-time PHP contributors who work on maintenance and new features for PHP. Maintenance is not limited to fixing bugs, but also includes work to reduce technical debt, making life easier for everyone working on PHP. The contributors funded by the PHP Foundation collaborate with other contributors on code, documentation, and discussions.

We publish the posts on our website, and you can subscribe to a newsletter; You don't necessarily have to be a PHP Foundation backer to follow PHP Core Roundup.
Subscribe to PHP Core Roundup newsletter
September was a slow month, given that PHP 8.2 reached its feature-freeze, and most of the work is now focused on getting PHP 8.2 ready for its general availability, scheduled for November 24th.
Nikita Popov recently tagged three new releases of the nikic/PHP-Parser library with support for PHP 8.2 features and syntax. PHP-Parser is used as the underlying PHP parser for several PHP static analyzers, and you can expect many PHP tools to support new PHP 8.2 syntax in the coming weeks.
Early-developments for PHP 8.3
Although PHP 8.2 is still being ironed out, there are some discussions and even an RFC currently being voted for proposed changes in PHP 8.3 (scheduled for the end of 2023!).
Deprecations for PHP 8.3 RFC is currently in draft, which stands to track ideas on deprecating certain features. So far those are related to the mb_strimwidth function, NumberFormatter class, and a few functions related to Random Number Generators (RNG).
Furthermore, there is an RFC currently under vote to add a new function named json_validate(), that validates a given JSON string without the memory overhead of otherwise decoding the JSON string into memory.
Recent RFCs, Merged PRs, and Commits
Changes and improvements to PHP are discussed, reported, and voted on by the PHP Foundation Team, the PHP development team, and contributors. Bug reports are made to the PHP issue tracker, changes are discussed in mailing lists, minor code changes are proposed as pull requests, and major changes are discussed in detail and voted on as PHP RFCs. Documentation and the php.net web site changes are also discussed and improved at their relevant Git repositories on GitHub.
Hundreds of awesome PHP contributors put their efforts into improvements to the PHP code base, documentation, and the php.net website. Here is a summary of some of the changes made by the people behind PHP. Things marked with 💜 are done by the PHP Foundation team.
RFC Updates and Pull-Request Updates
Following are the RFCs and major pull-requests discussed, voted, and implemented since our last update.
RFC In Voting: json_validate

RFC by Juan Carlos Morales, to add a new json_validate() function that returns whether the given string of JSON is a valid JSON. PHP's json_decode() function can emit errors or throw exceptions on strings with invalid JSON, but the proposed json_validate function will be faster and more memory efficient because it does not attempt to build the data structures in memory, but merely validate the given string.

This RFC is currently under vote, and concludes on 7th of October. The responses have been overwhelmingly positive to add json_validate to PHP 8.3.

RFC In Draft: Deprecations for PHP 8.3

RFC Christoph M. Becker and George Peter Banyard 💜 with suggestions from Tim Düsterhus and Go Kudo (so far!), that proposes a series of functionality/syntax to deprecate in PHP 8.3, and eventually remove in PHP 9.0.

Each proposed deprecation will be voted to determine if the deprecation makes it to PHP 8.3, but having a consolidated RFC eases the voting and discussions.

So far, the RFC proposes to deprecate the following:

Passing negative $widths to mb_strimwidth()
The NumberFormatter::TYPE_CURRENCY constant
MT_RAND_PHP constant/mode
Global Mersenne Twister: This includes deprecating several RNG functions including rand(), mt_rand(), array_rand(), shuffle(), and str_shuffle() functions in favor of the \Random\Randomizer class introduced in PHP 8.2, or random_int()/random_bytes() functions available since PHP 7.0. Most of the applications can simply switch to random_int()/random_bytes(), and applications that rely on an existing Mersenne Twister sequence can use the scoped Mt19937 engine through the new \Random\Randomizer class.
Documentation
Now that PHP 8.2 is being prepared for GA releases, the documentation available on php.net, requires updating. An initial version of the PHP 8.2 migration guide has been published.
George P. Banyard 💜 is tracking the progress for PHP 8.2 related changes in php/doc-en#1803, and you can help too!
You can also help with other existing issues, a good starting point are issues marked as "good first issue" that George went and triaged in preparation for Hacktoberfest.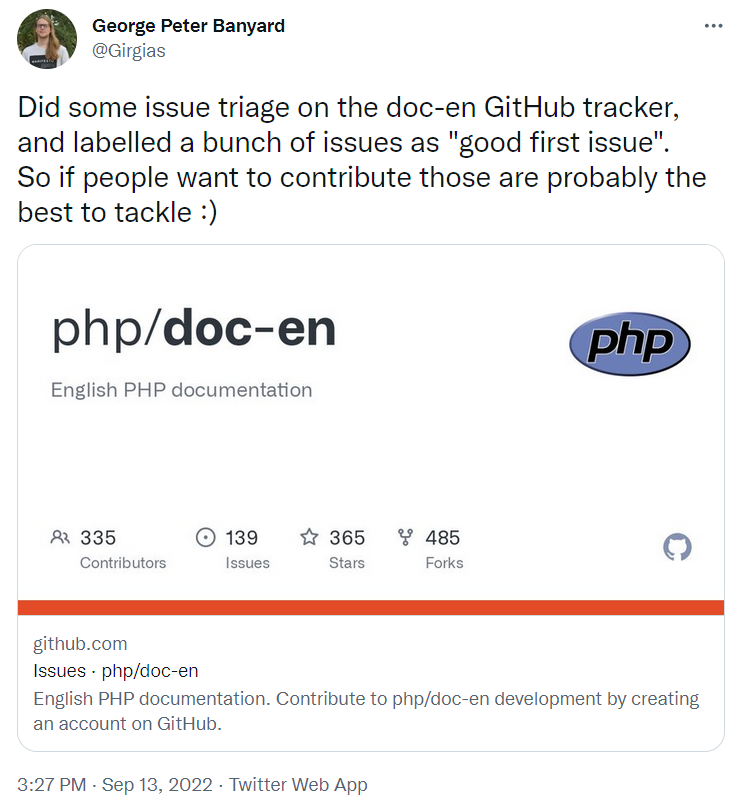 Derick has gone through all the datetime notes, and integrated them where needed, deleted where not.
Merged PRs and Commits
Following are some changes that did not go through an RFC process because they are either planned, bug fixes, or progressive enhancements. There are automated unit and integration tests for each of these changes, the PHP core developers review all pull requests.
Support PHP Foundation
At PHP Foundation, we support, promote, and advance the PHP language. We financially support six part-time PHP core developers to contribute to the PHP project. You can help support PHP Foundation at OpenCollective.
A big thanks to all our sponsors — PHP Foundation is all of us!
A special mention goes to mailcoach.app for providing us with a platform for the newsletter.
Follow us on Twitter @ThePHPF to get the latest updates from the Foundation.
💜️ 🐘
PHP Roundup is prepared by Ayesh Karunaratne from PHP.Watch, a source for PHP News, Articles, Upcoming Changes, and more.